I am always trying to think up new ways to plan and prepare for our Disney Vacations. I wanted to come up with a way for the kids to earn some extra spending money for out trip. So, I began brainstorming and came up with an idea. I decided to make some Disney Dollars that could be redeemed for spending money for our Disney Vacation. The idea was that the kids could earn 2 Disney Dollars each day leading up to our trip....if they didn't obey or did not show respect to the other members of our family, then they would not earn their Disney Dollars for that day. I spent some time designing them and getting them just right. Then it dawned on me that this money could have another use. My daughter received a Minnie Mouse cash register for Christmas. It came with a couple of coins, a debit card, and a couple of dollar bills. The dollar bills were cute, but printed on very thin paper. So my Disney Dollars we reduced in size and printed on cardstock. My little girl was so excited to have some play money. It has been used for every purpose that a 3 year old can imagine. Since she loved it so much. I wanted to share the files with the followers of my blog. If you download it, I would love for you to leave me a comment telling me what you plan on using it for.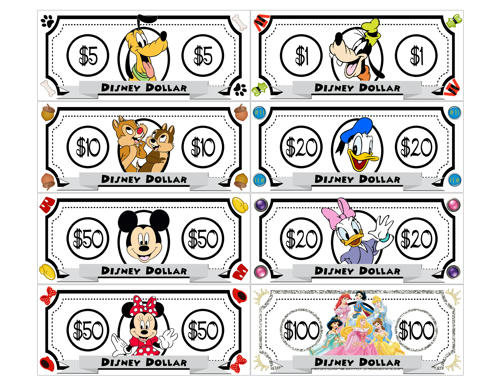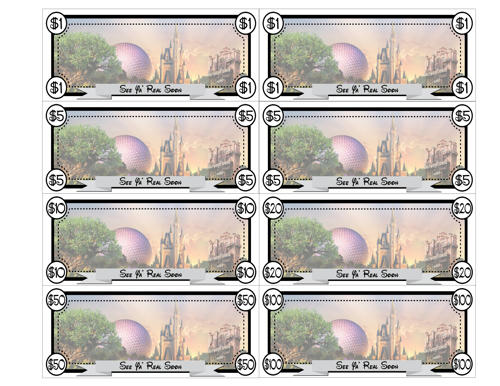 These dollars are my own designs and are for PERSONAL use only. PLEASE do not sell them or claim them as your own. For other uses, you may email me for permission.
Book your next trip to any Disney Destination with me
at

My promise to you is to make your vacation as MAGICAL as possible for you and your family by planning your entire trip. My personalized planning services will help you save time and money, plus get all of your questions answered--resulting in a better vacation experience for you! You benefit from my expertise inDisney Destinations! Best of all, when you book your trip with me, ALL of these planning services are FREE! Contact me today to book your trip to Walt Disney World, Disneyland, Disney Cruise line, Aulani, or Adventures by Disney and take advantage of my FREE planning services!